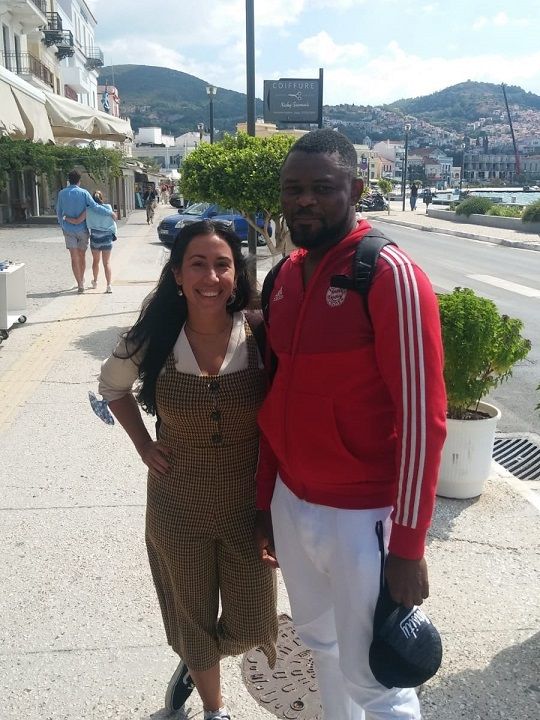 Lucky is one of the 524 asylum seekers supported in 2021 by the ASF France team at the Samos Legal Centre. Because he is a member of the Indigenous People's Movement of Biafra (IPOB), the 34-year-old Nigerian is at extreme risk of persecution and assault in his country. He arrived on the island of Samos in September 2019. After two years on the island, he is finally granted international protection in September 2021.
I received my decision after my interview, and it was negative. I was really not happy because I had used Google translator to understand the script, the decision, and I saw so many mistakes. It was like everything I said in the interview, they threw it out. They said I was LGBT for example, and I am not. I left my country because of a political problem, but they said it was because of being LGBT and a family problem.
I also realised in the interview that the translator didn't understand me, that he couldn't understand my English. For example, I said I worked with electronics, and he said that I was an electrician! There were lots of things like that. That day, more than 50 people got rejections. So many people. So I rushed down here, to this office and everybody was booked but when I came to you, you said no problem! So I went to the police station to sign a power of attorney and then you gave me a date to meet your lawyer.
When I met the lawyer, Naya, she explained everything to me. I explained to her about the problems with the translator and about the evidence, because in the decision it seemed like they believed every piece of evidence that I gave them about the situation, but they just didn't believe me and my story.
I left my country because of a political issue, because I was a member of the Indigenous People of Biafra, and we were against the Nigerian government. They think we are a terrorist group but we just want an independent Biafran State. I was an active member and using my own money to print flyers and other things, and then I was made a welfare officer, but this caused me many problems. The problems with my family were because I was a member, but it was not why I left my country, like the Greek asylum service said.
I explained everything about this to the lawyer and she said the evidence I had was good but I should bring more evidence, about recent events that happened where I am from, because there had been a lot of killings. I sent pictures and she said which ones were ok, and then she carried on with writing and with the rest of the procedure. Then I waited.
Waiting was kind of worse than anything. Because you have to watch as many people leave, but you are there, and everybody is thinking and hearing about this new camp, this closed camp, and I really didn't want to go there.
I was waiting for my decision and still liaising with your law firm and then finally, after four months of waiting, your lawyer confirmed that I had received a positive decision. I was like…wow. So happy. I am so happy and thankful to you. When I tell my friends that you didn't take any money to win my case, they don't believe me, because some people pay 400, 600 more. Now I live in Athens and I am working in a recycling plant. Everything is cheap except the rent! While I was still waiting and in the system, I was always afraid that the police would stop me. But now I don't have to be scared anymore. I entered Greece in September 2019 and I received this decision the same week, but two years later, in September 2021.
Picture: Lucky and his lawyer Naya