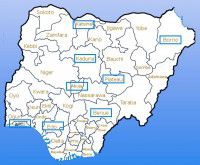 The overall objectives of this project are to strengthen the moratorium on the death penalty, and to develop new jurisprudence on the rights of persons facing the death penalty, based on international standards.
The specific objective is to reduce the number of people facing the death penalty, sentenced to death at trial, or definitively sentenced to death, - through the provision of free legal assistance, in 2 target states (Kaduna and Katsina).
Target states: Abuja, Benue, Edo, Kaduna, Katsina, Lagos and Plateau.