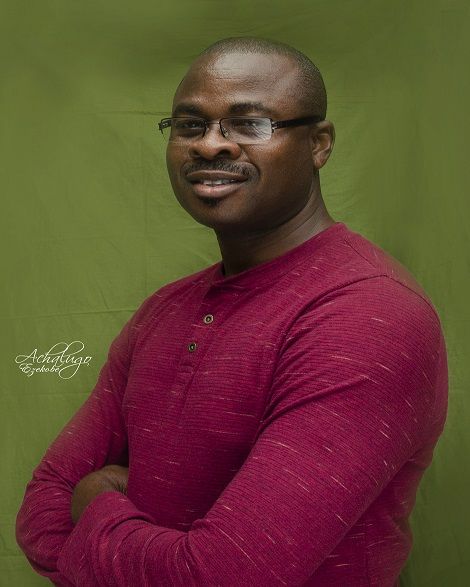 WE MET AMBROSE EKEROKU, EXECUTIVE DIRECTOR OF CAPIO, ONE OF OUR PARTNERS IN NIGERIA, TO FIND OUT MORE ABOUT THE ORGANISATION AND ITS ACTIONS TO PROTECT THE INTERESTS OF DETAINEES. PROJECT DIRECTOR AND OFFICER RESPONSIBLE FOR SAFE PROJECT, HE ALSO LOOKS BACK AT THE COLLABORATION WITH ASF FRANCE AND THE ENCOURAGING INITIAL RESULTS OF THE SAFE PROJECT.
WHO IS CAPIO ?
FR. AMBROSE EKEROKU (OCD) : The Carmelite Prisoners' Interest Organization (CAPIO) is a not for profit change development, a human rights organization which was formed by the Discalced Carmelite Order, a congregation of Priests within the Catholic church. Its sole aim is to advocate for and promote genuine justice and correctional sector reforms and improved welfare of less privileged persons in the society especially inmates in Nigeria. CAPIO was formed on 10th August 1992 by Carmelite Priests as an offshoot of responding to several needs of inmates which were discovered when Carmelite Priests visited Custodial centers to celebrate Holy Mass and administer other sacraments. The Priests realized that it wasn't enough to minister Christ to inmates in the situation they lived in, without meeting their basic needs like legal representation for inmates who have been awaiting trial for years, and their medical needs. On the 15th October 2003, CAPIO was formally registered with the Nigerian Corporate Affairs Commission. The Carmelites find inspiration for the work they do in CAPIO in the fact that human beings are created "Imago dei" (in the image and likeness of God), hence, they should be treated with dignity. Mathew 25:35-36 and Hebrews 13:3 succinctly reflect CAPIO intervention to inmates, whether guilty or innocent.
PROTECTING DETAINEES' RIGHTS IN 5 KEY AREAS
CAPIO interventions are embedded under five key areas which are: legal aid, medical, welfare, rehabilitation and advocacy.
Legal Aid: CAPIO provides pro bono services for indigent inmates who cannot afford the services of a lawyer. This department through sensitization programs, enlighten the general public of their right as contained in various extant laws. This unit has recorded several success stories which could be accessed here https://bit.ly/3ezBAtx
Medical Outreaches: Given that justice in Nigeria is for the rich, indigent inmates lack the means to meet feeding, medical, and other basic needs which are neglected by the government due to poor criminal justice system. CAPIO through her medical volunteers and Correctional Officers, diagnose and treat inmates through periodic medical outreaches while advocating for government and relevant stakeholders to take ownership of the welfare of inmates https://bit.ly/3mfdW99 .
Welfare department: Through the welfare department, CAPIO meets the basic needs of inmates like toiletries, clothes (which the general public donate), portable water (sinking of boreholes), etc.
Rehabilitation Department: We believe that education is a veritable rehabilitation tool, CAPIO has overtime given scholarships to inmates across the various commands of Nigerian Custodial Centres who wish to write their senior secondary school examination. CAPIO also facilitated the admission of successful students into the National Open University of Nigeria (NOUN), to study courses of their choice in a bid to rehabilitate and increase their employment opportunities post-release, while curbing recidivism. CAPIO supports inmates through vocational education in learning skills of their interest, which will make them productive while in custody and guarantee their independence when released from custody. Recently, CAPIO with funding support from VOICE set up a factory to produce reusable sanitary pads in Suleja Custodial Centre, under FCT Command. The established factory will improve the menstrual hygiene of female inmates, sharpen their skills and provide a stream of income for inmates who sell excess pads to the general public.
Advocacy: Advocacy is mainstreamed into all CAPIO program areas with the notion that service delivery is not enough; government and relevant stakeholders need to wake up to their responsibilities and be accountable to society. We believe in demands through institutional capacity strengthening, which starts with CAPIO staff and partner organization. Centre of Hope: CAPIO's novel innovation is partly supported by 8xmille.it through CHIESA CATTOLLICA Conferenza Episcopale Italiana, to rehabilitate vulnerable youths, returned citizens (ex-offenders), victims of torture, through skill acquisition in agriculture, woodwork, and other skills which will be available with the center operational in 2022 https://bit.ly/3rMvrP8
THE COLLABORATION WITH ASF FRANCE
Advocacy is central to CAPIO's five-year strategic plan. Our passion for advancing the human right of citizens, amnesty of inmates on death row and this explains our interest and partnership with ASF France in advocacy on human right related issues like arbitrary detention, extrajudicial killings, enhance the capacity of security agencies through training/sensitization programs in a bid to curb human right abuses in Nigeria.
CAPIO has overtime partnered with Avocats Sans Frontiéres France (ASF France), the first partnership was PROCAT project. Given the similarity in value between ASF France and CAPIO in their stand for zero tolerance on death penalty and human rights abuse, partnership with ASF France provided an opportunity synergy and covering more grounds. Partnership with ASF France is attributable to the commonality of principles, advocacy -which is our core competence- and the credibility of ASF France.
The SAFE project has been of keen interest to CAPIO as a result of her exposure to inmates who recount their ordeals of human rights abuses, of suspects extrajudicially killed and tortured by security agents in a bid to extract confessional statement. Collaborating with ASF France to raise awareness, hold security agencies and government accountable for human right abuses has been a remarkable partnership so far. CAPIO anticipates more partnership opportunities in the future.
ENCOURAGING RESULTS
There has been some level of improvement, it is noteworthy to state that the SAFE project is only, but a pilot study implemented in three states, out of thirty-six states and the Federal Capital Territory (FCT). The above shows that more needs to be done, though significant milestone has been recorded particularly through the training of security agencies in Nigeria. Training of security agencies identified knowledge gap of security personnel on existing laws. For instance, most security officers were unaware of the existence of the Anti-torture Act of 2015 and the implication of such acts. Torture has been existent and there are pockets of ongoing cases irrespective, but the SAFE project has raised awareness on anti-torture and other human right abuses. If audience was granted the SAFE project by the Police Force headquarters, perhaps the ENDSARS protest would have been averted. October 2020 is a watershed on advocacy against Police brutality in Nigeria, which has gone a long way in checking abuse of power by Police Officer. It is commendable to state that there has been a reduction in arbitrary arrest and extortion by Police Officers and reported cases of armed Police Officers who exercised restraint when assaulted by unarmed civilians.
Recently, the SAFE project established the Police Civil Society Situation Control Room, which creates synergy between the Police Complaint Response Unit and CSOs. Security personnel have knowledge consequences of their actions, which has helped curb human rights abuses.
CAPIO believes that the SAFE Project which has been implemented in three states of the federation is just a drop of water in the ocean as it will achieve set goals when the sensitization is cascaded to other states in Nigeria. Nigeria Police has a centralized system, the goals of the intervention will be more granular with the expansion of advocacy to other states. I am optimistic about human rights compliance in Nigeria, with the knowledge that human rights issues are better than what was formerly obtainable. People are more aware of their rights and are strongly demanding them. With other CSOs in Nigeria contributing their quota in curbing human rights abuses, there is light at the end of the tunnel. As duty bearers, we will take responsibility for the rights of the masses as enshrined in the constitution.
Find more about CAPIO
CAPIO Home - CAPIO (capiong.org)